Ecosystem Tableau
Ocean to River to Sky
Image depicts the movement of species within each section as they migrate moving between and through the ecosystems. Gray whale migrates with her calf along the shoreline and up the coast as salmon return to the rivers and butterflies alight on the tree structure that frames the whole.
Holly Peters designs on the lasercutter 
creating a unique line of 3D and papercut art.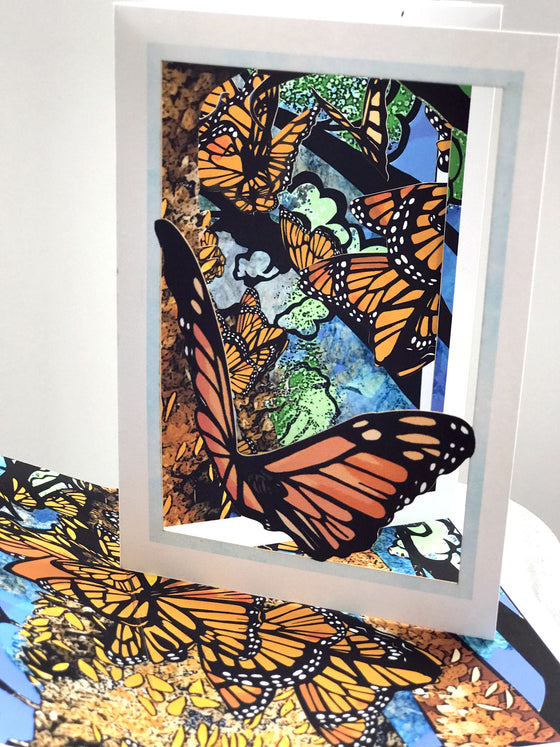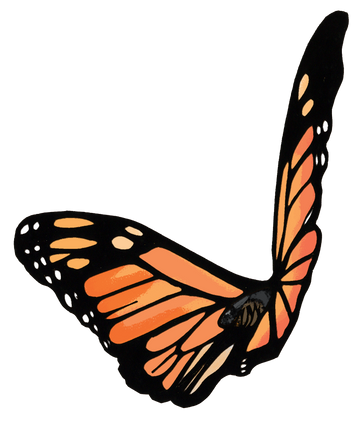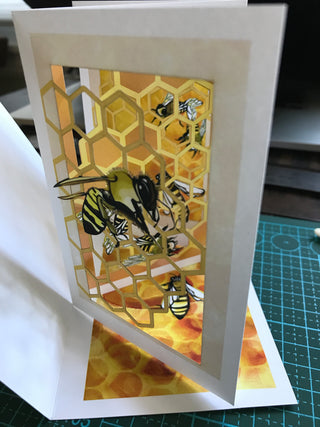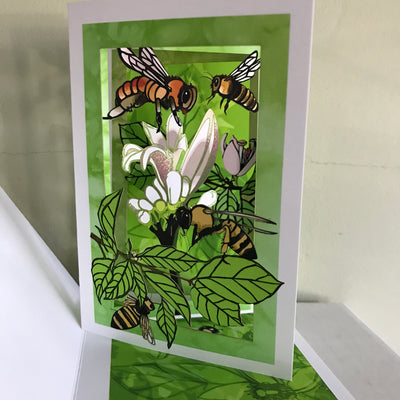 POPupfoldOUT
Monarch Butterfly Migration
Newest POPupfoldOUT design, depicting Monarch butterflies wintering in the San Marta Mountains of Mexico and variation showing the butterflies in Natural Bridges State Park in Santa Cruz, CA. 3D paper art construction opens to reveal the wintering Monarch butterflies—trees orange with the delicately layered butterflies while others float in the air. Lots of color and cuts.
Testimonials
Mar 11, 2020

5 out of 5 stars    

This is the 3rd time I have purchased these cards. They are loved by all that I give them to. And Holly was both helpful and responsive in helping me find what I want. No other cards compare!

 

Andrea
Jul 1, 2019

5 out of 5 stars    

I love this cathedral card- it is unique and beautifully made. Thank you!

.

Lindy
Feb 18, 2019

5 out of 5 stars    

Creative, innovative, and always surprising: Holly knows exactly what she is doing and for what she is aiming. Every recipient to whom I have sent one of Holly's cards is mesmerized by the beauty and execution of the work of art. Never disappoints. I keep coming back, not only for the new creations, but for more of those that I have bought previously. Thank you, Holly.

Tom
Jul 1, 2018
5 out of 5 stars 
Every card this lady makes is amazing! I'd buy everyone if I could. The lucky recipients love receiving them.

Bob
Jan 12, 2017

5 out of 5 stars    

I have ordered cards from this shop before. Every time they are shipped quickly and even nicer in person! We always get compliments on the cards when we give them to friends and family for special occasions. In addition to the cards, the shop owner, Holly, sent a beautiful luminary to us free of charge! It's stunning! We put in a little LED light and it's a gorgeous display. Would make a great gift. Thank you so much! Will order from this shop again!

Anjelica
Nov 25, 2016

5 out of 5 stars    

Absolutely spectacular hummingbird card! I'm really looking forward to seeing my mom's face when I give it to her.

Amanda